BACK TO SCHOOL

EQUIPACIÓN MX 180

NUEVAS PROTECCIONES MTB
Brett Rheeder
Freeride Royalty
Brett Rheeder es conocido por sus locas habilidades cogiendo-el-viento, hasta el punto en que lo han apodado 'Freerife Loyalty' en la revista Dirt Magazine. Nacido en 1993, este nativo de Mount Albert, Ontario, es el Michael Jordan de la industria Freeride. Su duro trabajo y dedicación a su arte no han pasado desapercibidas. Su precisión en cada competición demuestra cuanto tiempo dedica a su preparación en sus entrenos. De mountain biker a peligrosos saltos en el país, sus videos online son unos de lo más vistos por Fox. El ambiente del público cuando el nombre Rheeder es llamado para empezar su sesión en la sesión Redbull Joyride es remarcable. Estamos siendo testigos de algo grande.
Leer más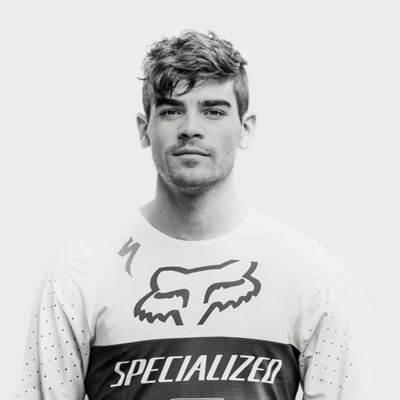 Loïc Bruni
CAMPEÓN DEL MUNDO
Loic nació en el sur de Francia - Costa Azul. Siempre feliz, fácil en la bicicleta, Loic comenzó a competir en XC, DH y Trial. Entrenando en terrenos famosos como Peille o Cap d'Ail, Loic firmó su primer contrato para su primer año como Junior. Se unió a Sam Blenkinsop, su ídolo, y comenzó a mejorar su velocidad con él.

Mejor comida, pensando en la recuperación, en el tiempo libre y trabajando con su mejor amigo y mecánico Jack Roure, Loic alcanzó el podio Elite durante su segundo año como Junior, en Windham USA.

Se convirtió en el Campeón del Mundo en 2015, y después de eso ganó su primera etapa de la Copa del Mundo en 2016, Cairns - Autralia.
Leer más
Noticias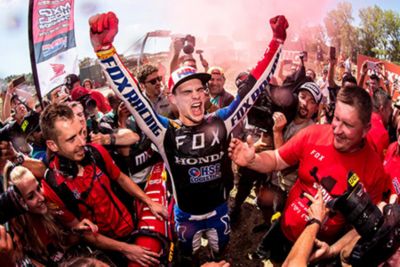 TIM GAJSER - 2019 MXGP World Champion | 19-08-18
It was a massive weekend in Italy for HRC's Tim Gajser as the 22-year old Slovenian clinched the 2019 MXGP World Championship at Round 15 of the series. All eyes were on Gajser heading into the weekend, as he edged closer to a 3rd career World Championship after winning his ninth overall victory of the season at the previous race in Lommel. After winning the title as a rookie in the class back in 2016, Gajser faced two rough seasons filled with injuries and bad luck. In 2019 he returned with a vengeance, racking up victory after victory while taking his riding to a whole new level.
Gajser would not be given an easy task on the weekend from the track, as the race surface built inside the classic Autodromo Internazionale Enzo e Dino Ferrari speedway was extremely hard and bumpy. Regardless, he got things off to a good start on Saturday, with the fastest time in both Free & Qualifying Practice. The sun was beating down in Imola by the time the riders lined up for the Qualifying Race, and Gajser got off to a solid start through the right handed first corner. He took the green flag in 2nd position behind Romain Febvre and stalked the Frenchman for the opening laps waiting to make his move. After eating roost over the first half of the moto, Gajser finally made the pass for the lead just before the finish line on Lap 8. He settled into the lead after that and took a convincing win for first pick on the gate for Sunday's motos.
Tim headed to the line on Sunday knowing he could wrap the title after Moto 1 with only an 8th place finish if Jeremy Seewer took the win. After not getting the cleanest start, he fought his way through the pack on the opening lap and held 4th place at the green flag with Seewer just behind him in 5th. In classic Gajser fashion, he dropped the hammer and charged to the front with his focus fully on taking the moto win. He made quick work of Paul Jonass and Gautier Paulin and had moved into 2nd only 2 laps later. Race leader Glenn Coldenhoff was in his sights and he continued to charge before making a big mistake and going down on the following lap. The crash knocked him back to 8th but he got going again with full focus on the title. In a much more controlled manner he moved up as far as 5th, which was plenty enough to take the championship with Seewer in second.
It was a hero's welcome for Gajser as he came off the track, with the entire HRC crew making their way onto the circuit to greet him. Champagne sprayed and red smoke filled the air as Tim and his team celebrated the ultimate achievement in the MXGP world. Gajser was overcome with emotion as he soaked in the moment and relished in the third World Championship of his young career.
With all the pressure off after clinching the championship, there was still work to be done and Tim headed to the line for MXGP Moto 2. Another mediocre start had him sitting 4th at the green flag, and he let the race come to him this time as he cruised to 2nd place. He went 5-2 for 3rd Overall on the day, but the only moment he'll remember from the day is raising the #1 plate on the podium.
Gajser's second career premier class title comes with three rounds of the championship remaining. His domination during the middle part of the season that included a streak of 7 overall victories put him in the perfect position to wrap the title up early. The series rolls on next week at Uddevalla in Sweden. #BravoTim
Leer más
Loic Bruni & Loris Vergier Dominate Andorra | 19-07-08
Fox team riders took the top two spots after some wild racing on the ultra-dry Vallnord World Cup track. The competition was incredibly close with the top three riders separated by only 1.2 seconds. In the end, Loic Bruni threw down an incredible run to beat his French compatriot, Loris Vergier, by just four-tenths of a second! Fox rider Laurie Greenland made some small mistakes but still had the speed to finish eighth – his second top 10 of the season! No rest for the crew as they head to the Legendary slopes Les Gets, France next weekend. Congratulations to Loic, Loris and the rest of the Fox MTB team. No rest for the crew as they head to the Legendary slopes of Les Gets, France next weekend
Vallnord Race Results
Men's Results:
1st – Loic Bruni (4:11.055)
2nd – Loris Vergier (+0.423)
3rd – Troy Brosnan (+1.202)
4th – Amaury Pierron (+2.948)
5th – Danny Hart (+5.595)
6th – Brook MacDonald (+6.866)
7th – David Trummer (+6.979)
8th – Remi Thirion (+7.989)
9th – Laurie Greenland (+8.383)
10th – Jack Moir (+9.260)
Women's Results:
1st – Rachel Atherton (5:00.622)
2nd – Marine Cabirou (+2.497)
3th – Tracey Hannah (+7.131)
4th – Emilie Siegenthaler (+12.859)
5th – Eleonora Farina (+15.098)
6th – Kate Weatherly (+18.497)
7th – Veronika Widmann (+18.538)
8th – Mariana Salazar (+20.011)
9th – Nina Hoffmann (+20.646)
10th – Sandra Rubesam +26.707
For raceday UCI Downhill coverage, follow Fox Racing on Instagram @foxmtb
Leer más
FOX RACING® ESPAÑA - SITIO OFICIAL
Fox Racing nació en 1974 para convertirse en la firma más innovadora del mundo del motocross. Hoy sigue manteniendo esa posición privilegiada diseñando y produciendo ropa y equipación para los mejores pilotos del planeta. La empresa, impulsada por su espíritu deportivo, ha ampliado su oferta de productos para cubrir las categorías de MTB y BMX, además de crear líneas de ropa deportiva vanguardistas inspiradas en el universo de la moto para hombre, mujer y niño.