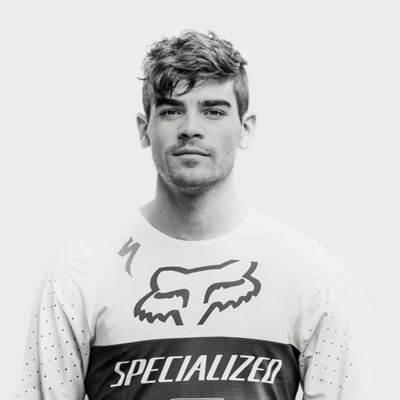 Loïc Bruni
CAMPEÓN DEL MUNDO
Loic nació en el sur de Francia - Costa Azul. Siempre feliz, fácil en la bicicleta, Loic comenzó a competir en XC, DH y Trial. Entrenando en terrenos famosos como Peille o Cap d'Ail, Loic firmó su primer contrato para su primer año como Junior. Se unió a Sam Blenkinsop, su ídolo, y comenzó a mejorar su velocidad con él.

Mejor comida, pensando en la recuperación, en el tiempo libre y trabajando con su mejor amigo y mecánico Jack Roure, Loic alcanzó el podio Elite durante su segundo año como Junior, en Windham USA.

Se convirtió en el Campeón del Mundo en 2015, y después de eso ganó su primera etapa de la Copa del Mundo en 2016, Cairns - Autralia.
Leer más
Tim Gajser
2019 MX GP World Champion
Tim Gajser es un corredor de motocross profesional esloveno. Compite en la Clase MXGP en el Campeonato Mundial FIM MXGP como piloto del Equipo Honda HRC. Tim nació el 8 de septiembre de 1996 en Ptuj, Eslovenia. Su padre Bogomir también fue piloto de motocross e introdujo a su hijo al deporte a una temprana edad. Él sigue siendo su entrenador hasta el día de hoy. Gajser tiene un hermano mayor, Nejc, y dos hermanas menores, Alja y Neja. En 1995, su familia sufrió una tragedia cuando su hermano Žan de 3 años murió en un accidente de carrera. Durante una carrera, el niño vagó por una pista debajo de uno de los saltos y fue golpeado por la motocicleta de su padre durante el aterrizaje. Tim Gajser viaja con el número 243 en honor a su hermano fallecido, que nació el 24 de marzo. En 2015, Gajser ganó su primer Campeonato Mundial en la Clase MX2 mientras cabalgaba para el equipo Gariboldi Honda. En 2016, Gajser se graduó en la clase MXGP bajo el ala del Equipo Honda HRC. En una deslumbrante temporada de MXGP amateur, Gajser se coronó campeón mundial de MXGP 2016.
Leer más
Noticias
KEN ROCZEN TAKES THE 450 POINTS LEAD | 20-01-18
On the heels of his 450 Supercross victory last week in St. Louis, Ken Roczen put together another strong performance. The German took 2nd, giving him enough points to take the points lead, and the famed "red plate." In addition to a heated 450 Main Event, there was plenty of action at the Big A including an intense 250 Main Event battle, Stacyc youth racing, and Chad Reed's final go-round at his beloved Angel Stadium.
A2 Supercross Qualifying
Adam Cianciarulo continued his streak of earning the top qualifying spot in the 450 Class during Saturday's qualifying sessions. Ken Roczen was just behind him in 3rd.
In the 250 Class, Pro Circuit Kawasaki's Austin Forkner grabbed the second fastest time while Geico Honda's Jett Lawrence was an impressive 3rd.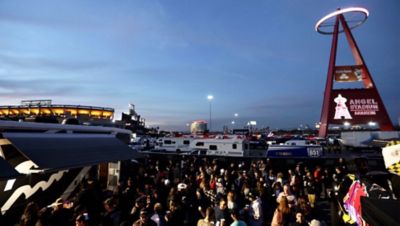 Home Dirt
Angel Stadium is just down the road from Fox Headquarter, making Anaheim races a great opportunity for us to celebrate racing together. The Fox family got together for good old fashioned "Chill & Grill," and the whole crew was fired up to head into the stadium as the sun set in the distance.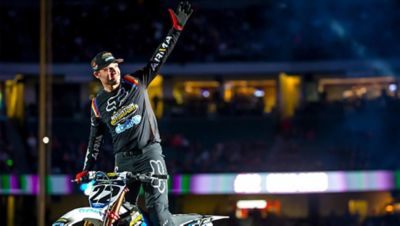 Chad Reed's #OneLastRide
Chad Reed's #OneLastRide farewell tour continued at A2, but this stop was extra special for the Australian veteran. Reed has been very vocal about his love for Anaheim races. He's clocked eight total wins at the Big A and will walk away from his racing career having participated in 47 of 75 races held there thus far. The local fans gave him a farewell cheer worthy of a legend. Cheers Reedy!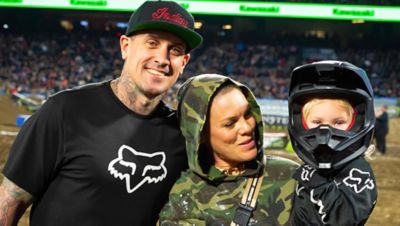 Stacyc Holeshot Challenge
The next generation of Supercross stars got a chance to shine on the floor of Angel Stadium as a Stacyc holeshot challenge was held for a group of lucky youngsters. Participants from the Fox family included Jameson Hart, Jagger Craig, and Parks Perebijnos. It was great to see the kids having some fun and experiencing riding under the stadium lights.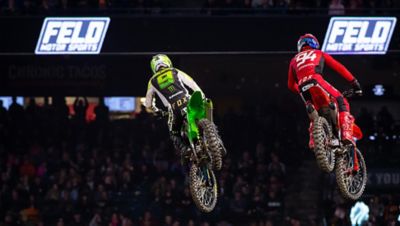 A2 Supercross Heat Races
Pro Circuit's Austin Forkner was able to take the win in 250 Heat #1, and Geico Honda's Christian Craig earned the Heat #2 victory. Jett Lawrence was just behind Craig in second, and there was a sense of intensity in the 250 Class that was bubbling up for what would become a wild main event later in the evening.
Supercross's favorite training partners, Ken Roczen and Adam Cianciarulo battled it out in 450 Heat #2 and diced back and forth before Roczen eventually took the win. The boys were smiling and laughing as usual as they pulled off the track in 1st and 2nd.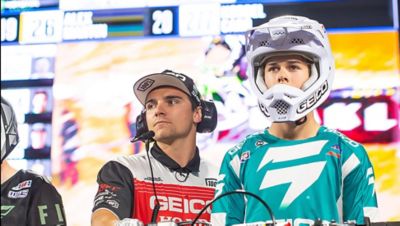 A2 Supercross Main Event
The 250 Main Event was arguably the most exciting race of the night. It began lap two as Geico Honda's Jett Lawrence passing his teammate Christian Craig for the lead. The 16-year-old Lawrence led the field as drama ensued behind him. First, it was Austin Forkner going down in a heap while running 3rd, then Christian Craig got taken out during a controversial move by Dylan Ferrandis. Lawrence looked to be on his way to his first main event win but a tricky whoop section took him down on the final lap. Forkner and Craig walked away unscathed, but Lawrence suffered a broken collarbone that will eliminate him from action for at least a couple weeks. It was a tough night for our guys in the 250 Class. Get well soon Jettson!
The 450 Main Event got off to a great start with Ken Roczen grabbing the holeshot and the early lead. Adam Cianciarulo didn't fare as well. He started just outside the top 10 and had to cut through the pack to get back into the mix. Roczen conceded the lead on lap 7, settled into second, and eventually finished second. This podium gave him enough points to pass the series points leader, Justin Barcia, and take control of the coveted red plate. AC finished in 6th and was notably frustrated with himself. Overall, it was a positive night, and Roczen heads into Round 4 next week in Glendale, Arizona.
For raceday Moto coverage, follow Fox Racing on Instagram @foxmoto
250 SX West Round 2 Results - A2
Dylan Ferrandis
Justin Cooper
Brandon Hartranft
Michael Mosiman
Alex Martin
Luke Clout
Mitchell Oldenburg
Jacob Hayes
Jett Lawrence
Killian Auberson
250 SX West Season Point Standings
Justin Cooper - 72 Points
Dylan Ferrandis - 60 Points
Brandon Hartranft - 58 Points
Austin Forkner - 50 Points
Alex Martin - 50 Points
Jett Lawrence - 46 Points
Jacob Hayes - 44 Points
Michael Mosiman - 41 Points
Mitchell Oldenburg - 38 Points
Luke Clout - 35 Points
450 SX Round 2 Results - A2
Eli Tomac
Ken Roczen
Cooper Webb
Zach Osborne
Jason Anderson
Adam Cianciarulo
Justin Brayton
Malcolm Stewart
Blake Barcia
Dean Wilson
450 SX Season Points Standings
Ken Roczen - 66 Points
Justin Barcia - 63 Points
Eli Tomac - 61 Points
Jason Anderson - 57 Points
Adam Cianciarulo - 56 Points
Cooper Webb - 53 Points
Zach Osborne - 46 Points
Malcolm Stewart - 46 Points
Justin Brayton - 46 Points
Blake Baggett - 42 Points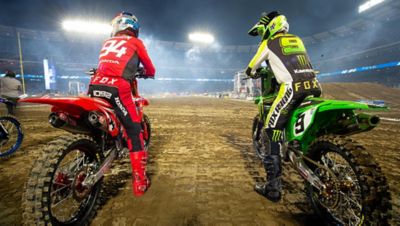 Leer más
Fox Womens B-Line Ride Night | 20-01-07
The winter months can be discouraging and gloomy, but thankfully in Calgary, Alberta when the temperatures drop below freezing, the bike community has the B-Line Indoor Bike Park to seek refuge. Among the park traffic is an emerging group of ambitious and inspired women riders looking to share the ride with like-minded females to progress themselves socially and physically.
Every Tuesday of the month, B-Line Indoor bike park reserves designated areas of the facility for the women allowing them priority on features while riding amongst the seasoned male riders, helping integrate the females and build confidence as a group.
On Tuesday, January 7th, Fox Womens hosted an organized Ride Night with special guest Claire Buchar as the head coach to help build some basic riding foundations with the women's group. Claire brought along local Squamish rider and Summer Gravity Camp coach, Bailey Goldstone to help make sure the group always had someone to lean on for questions.
Females of all ages and calibers participated in organized group stretching, body positioning session, fundamentals of pump track manuals and then progressed into the park's jump lines - The vibes were high, and the encouragement was higher!
Stay tuned in for upcoming Fox Womens Ride Night announcements, dates and guest coaches!
Leer más
FOX RACING® ESPAÑA - SITIO OFICIAL
Fox Racing nació en 1974 para convertirse en la firma más innovadora del mundo del motocross. Hoy sigue manteniendo esa posición privilegiada diseñando y produciendo ropa y equipación para los mejores pilotos del planeta. La empresa, impulsada por su espíritu deportivo, ha ampliado su oferta de productos para cubrir las categorías de MTB y BMX, además de crear líneas de ropa deportiva vanguardistas inspiradas en el universo de la moto para hombre, mujer y niño.